How To: Add a Payment Method for a Reoccurring Subscription
In this how to guide, you will find step-by-step instructions on how you can add a new payment method to your account for your reoccurring orders.
*We recommend opening this page in a separate tab, so that you may follow along with the step-by-step instructions.*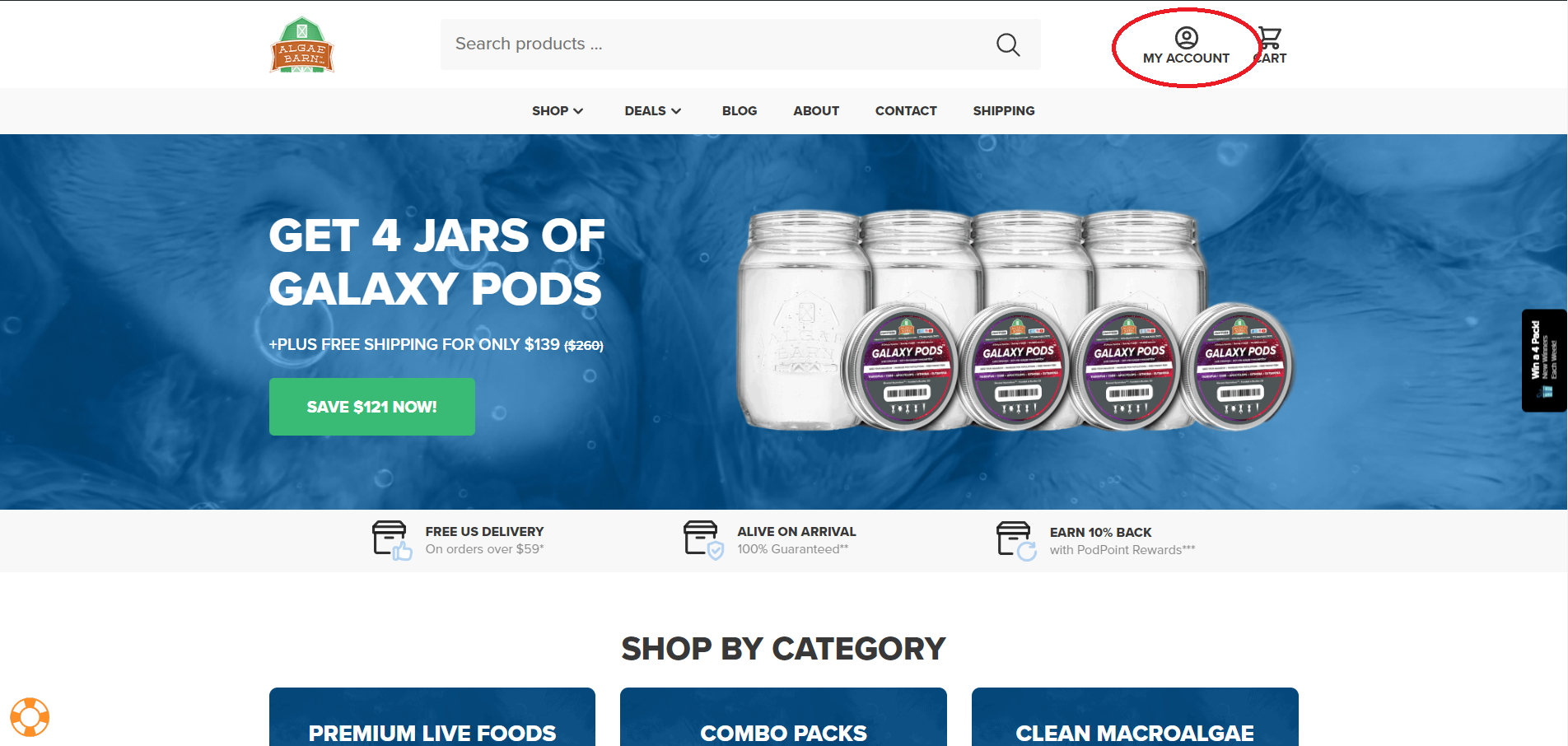 1. First, you will need to go into your subscription settings, which can be found underneath the MY ACCOUNT icon in the top right.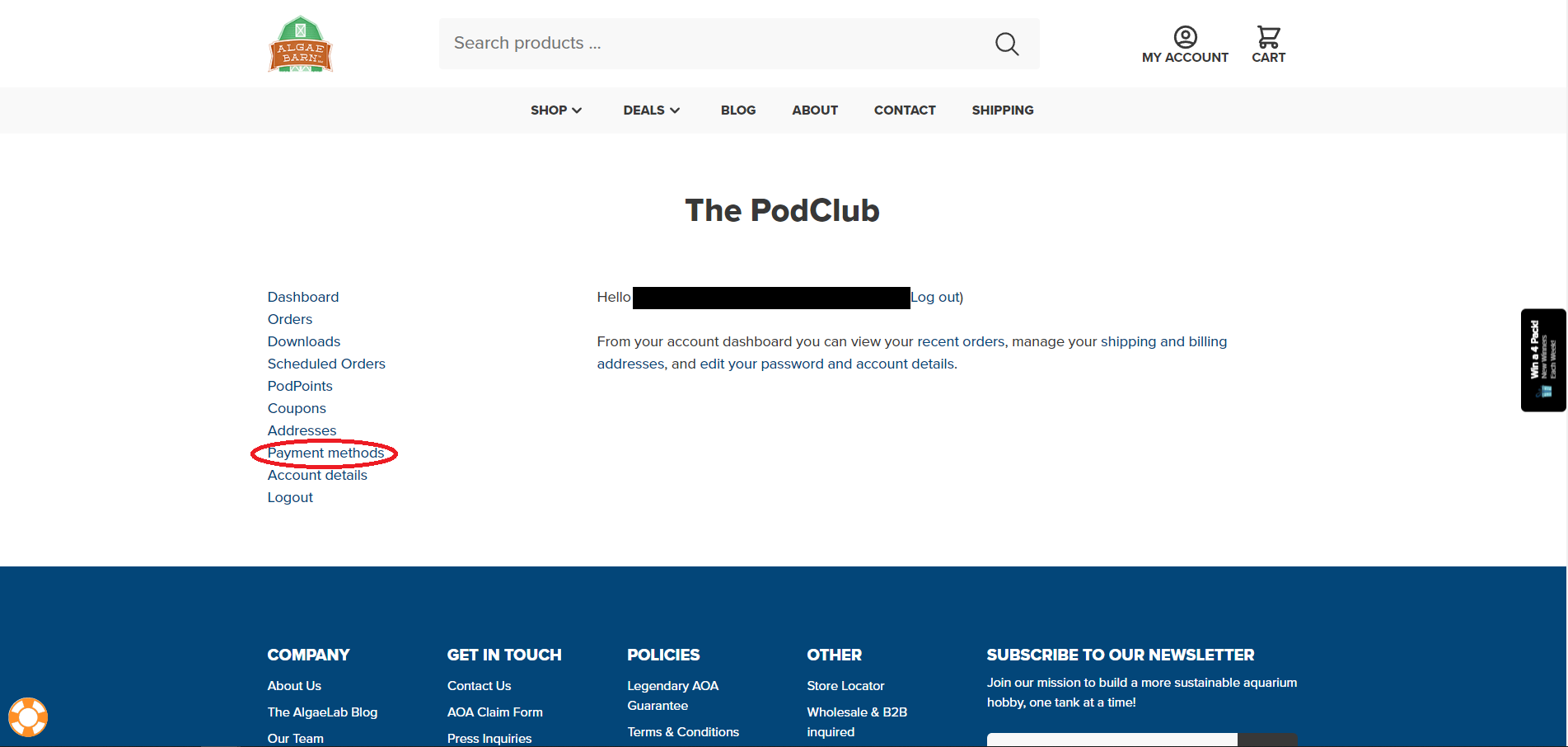 2. Within your account you will need to select the "Payment methods" option.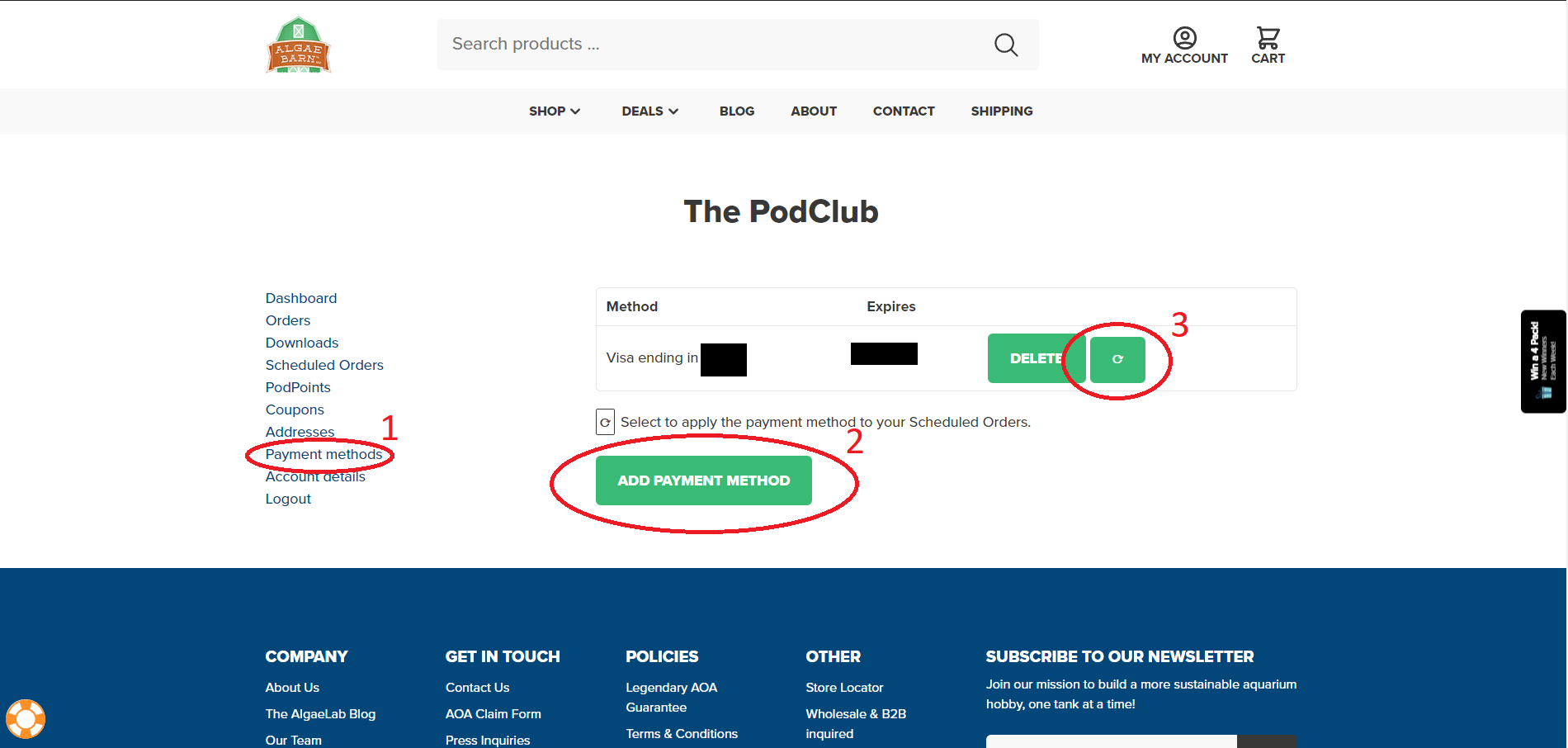 3. This will bring you to a new screen, at which point you will select the "Add Payment Method" option, as shown above. Once you have added your payment information, you must select the refresh icon to apply and finalize your preferred payment method.
*If your recent subscription order had failed to process, please reach out to customer support at
support@algaebarn.com
after your payment information has been updated, so that we may process your order and adjust your schedule accordingly.
Related Articles

How To: Add Items to a Reoccurring Subscription

In this how to guide, you will find step-by-step instructions on how you can update your subscription so that it may include any new item(s) in all of your future reoccurring orders* *Please note that this is a guide for adding a reoccurring item to ...

How to: Cancel a Reoccurring Subscription

In this how to guide, you will find step-by-step instructions on how you can cancel your reoccurring subscription. *Please note: If your order has already shipped, we are unable to refund or cancel that order. We provide notification 2 days and 10 ...

How To: Edit a Subscription Schedule

In this how to guide, you will find step-by-step instructions on how you can update the schedule of your subscription so that it may process at a different frequency or on a new date. *We recommend opening this page in a separate tab, so that you may ...

How to: Pause a Subscription

In this how to guide, you will find step-by-step instructions on how you can pause your reoccurring subscription. *Please note: If your order has already shipped, we are unable to refund or cancel that order. We provide notification 2 days and 10 ...

Neptune COR User Guide

User Guide for Neptune COR-15 & COR-20 A downloadable version of this guide may also be found here: https://www.neptunesystems.com/downloads/docs/COR_User_Guide_for_APEX.pdf